Constructed of stainless steel and lightweight, hard anodized and powder coated aluminum alloy, TFT's Ball Intake Valve series has virtually eliminated expensive corrosion related repairs.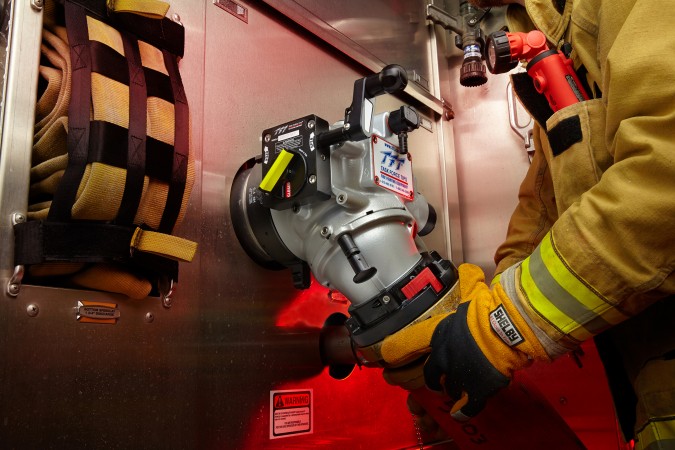 Cliquez sur la photo pour agrandir.
Jumbo Ball Intake valve
TFT's Jumbo Ball Intake valve has a huge 5-¼ inch diameter waterway giving low friction loss to maximize flow. Friction loss is 3 psi at 2000 gpm. Designed for use with 3.5, 4, 4.5, 5 or 6 inch (89, 100, 115, 125, or 150 mm) hose. The 30° intake elbow swivels 360° and has multiple positive detents. Make hose connections in any direction with minimal kinks and coupling stress. Designed for pressure or vacuum service on a pumper. Maximum operating pressure is 250 psi (17 bar). Meets 900 psi (62 bar) hydrostatic strength test. The aluminum castings are hardcoat anodized, and TFT-powder coat finished inside and out for maximum corrosion protection. All the components on the wet side of the valve are made of stainless steel for additional corrosion protection. The handcrank needs 7-½ turns to close, meeting NFPA slow close requirements. There is a unique position indicator that shows the operator if the valve is open, closed or somewhere in between. The handcrank is installed with a 2-5/8" swing but may be switched to 1-5/8" if desired.
 Video
For more information