Invented by a police officer, the amazing new PowerFlare® PF-200 Safety Light is an essential piece of equipment for police, firefighters, EMTs, rescue first responders, and members of emergency response teams.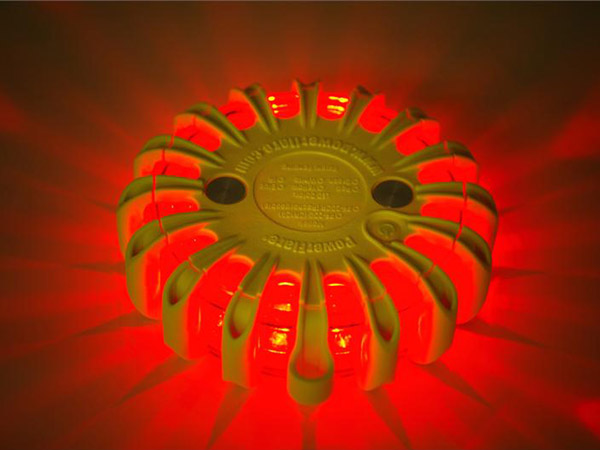 Cliquez sur la photo pour agrandir.
PowerFlare® PF-200 Safety Light
Ideal to keep in the trunk of your car or in a first aid kit, etc. Uses a Lithium CR123 battery that has a 10 year shelf-life and won't leak in harsh temperatures. Features 9 user-selectable flash patterns, including Coast Guard "SOS" Morse code for rescue and solid-on (lantern) mode for use as a lantern or power-fail light. LED colors: red, amber/yellow, blue, green, white, and infrared (IR). Outer shell (housing) color options: yellow, orange, and olive drab (OD).
Durability
The PowerFlare® unit's ultra-compact, internally reinforced design and high-strength housing is designed to handle the impact and pressure of truck run-overs at highway speeds and works under water to 300′ depth. No other traffic flare, electronic or incendiary, is this tough.
Visibility
The PowerFlare® product uses the latest in ultra-bright light-emitting diode (LED) technology, similar to the LEDS in new police and fire light bars. The user can select various flash patterns to manage visibility and battery life using PowerFlare's proprietary LED management circuitry.
Rechargeable
The intelligent charging system prevents overcharge and ensures the unit is always ready to go. The user does not need to fuss with alkaline batteries or worry that the device is not good to go.
Safety
PowerFlare® is water-tight and non-reactive, allowing it to be used at HAZMAT scenes. Unlike other solutions, it does not contain or emit any toxic or noxious chemicals or fumes.
Flexibility
PowerFlare® is not just an Electronic Beacon, it is a platform for many applications from recreation to military.
Video
For more information