Nano Fans are the smallest industrial fans available. At 8″, these fans are designed to be extremely compact, portable and be used for negative and positive pressure.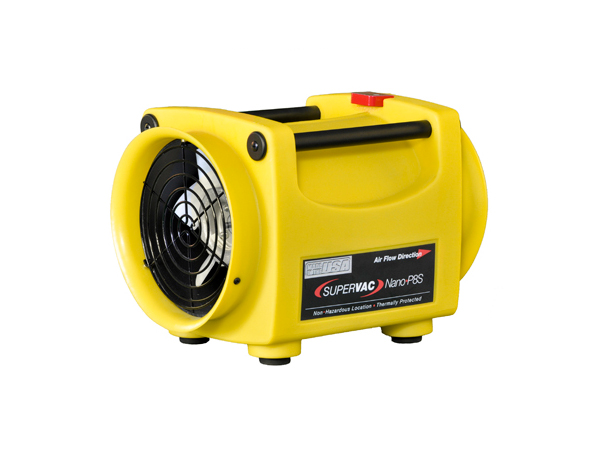 Super Vac Nano P8S Ventilator
The Nano P8S is an 8″ industrial fan designed for confined space ventilation challenges.  The P8S delivers the highest airflow in its class and can be used to supply clean air or to exhaust fumes from an area.
Features
8″ Blade
2 Carry Handles
Can be Used for Negative or Positive Pressure Operations
Duct can be Attached to Either End
5 Year Warranty
P8S Specs
Motor – 1/3 Hp, TEAO (Totally Enclosed Air Over), 60/50hz, 115/230V
HxWxD – 11.5″ x 10.75″ x 16″ – 292mm x 273mm x 406mm
Blade Diameter – 8″ – 203mm
Weight – 20 lbs – 9 kg
Output – 1037 cfm – 1760 cmh
*Output is at 60Hz – for 50Hz – output should be multiplied by 5/6
For more information